Dear T-FANS,
Are you a explorer in life?
Do you like to take challenges & break limits?
This month your photography challenge is to take & share a picture with the widest focal length available to you with your TECNO device.
Your image can be of any subject matter – selfie,portraits, landscapes, sports, nature,wildlife…. whatever you like.
If you tag your photo on FB, INS or other sites with Tagging tag it as #CAMONSeriesGoExtreme to help others find it. Linking back to this page might also help others know what you're doing so that they can share in the fun.
WHO CAN JOIN:
Due to the limits of gift distribution, the event is currently open to T-FANS in ALL countries that has T-SPOT, including Nigeria,India,Keyna,Ghana,Mali,Tanzania,Pakistan,Bangladesh,Guinea,Senegal
Cameroon & Cote d'ivoire
(TECNO staff are excluded from the event)
Prize pool of the month :
CAMON phone x 10 + 200 USD
HOW TO PARTICIPATE:
1. Go to Forum- Follow "New CAMON"
2. Use your TECNO device to snap a wide-angle picture,post your entry under #CAMONSeriesGoExtreme
Photo size required:
1080 x 2160
Winner selection rules: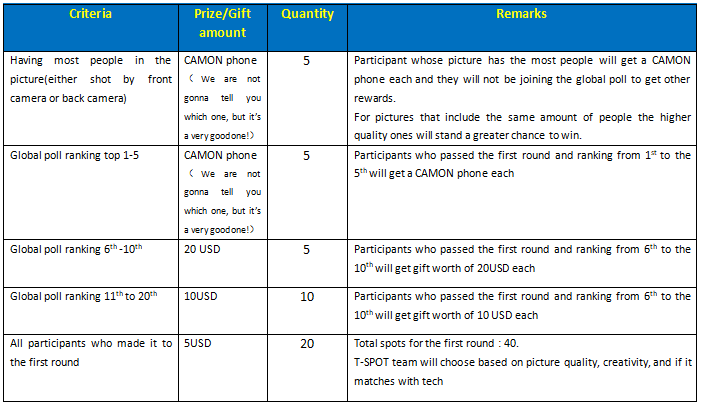 TECNO UX team will initially select the pictures based on creativity, quality and positiveness.
For this month's wide angle photography challenge, having more people in the pictures will have greater chance to win CAMON phone
A few example pictures that might help you tackle the challenge:
Contest period:
September 4th to September 27th
Get your CAMON device now!!!!!!!!!!!!!
It is on !!!
Disclaimer:
1. All participants must at least 18 years old and if there is any personal issue that can not collect the prize, TECNO won't have any responsibility of this. The copyright of the photo must belong to the participant.
3. TECNO reserves the right to change the content on the TECNO SPOT and other details. All content is protected by TECNO copyrights.
4. TECNO reserves the right to change or delete this activity without prior notice.
5. TECNO will announce the final winners of this campaign in our Facebook and TECNO SPOT when we finish the activity.
6. In case of any concerns or objections, TECNO reserves the right to make final decisions about the content or to change the award at any time. This promotional activity is not sponsored, supported or managed by Facebook.
7. TECNO reserves the right to use the content for other marketing activities and advertising, for example, putting the content in HiTheme-Wallpaper store, T-SPOT Homepage, or TECNO social media accounts.
8. If the personal information is not complete or identity cannot be verified, TECNO reserves the right to cancel the award without prior notice.
9. The candidate will take full responsibility for the copyright issue of his/her own entry.