Hey Boombuddies! You must have noticed a number of posts with the tag 'EditorPicks', and they usually receive high engagements!


So what does the tag 'EditorPicks' mean, and how does a post get it?

'EditorPicks' is the official recognition of the quality of a post.

It allows the post to get higher exposure and engagements.

More importantly! The more EditorPicks you get, the higher the chance that you can become a Boombuzz Influencer!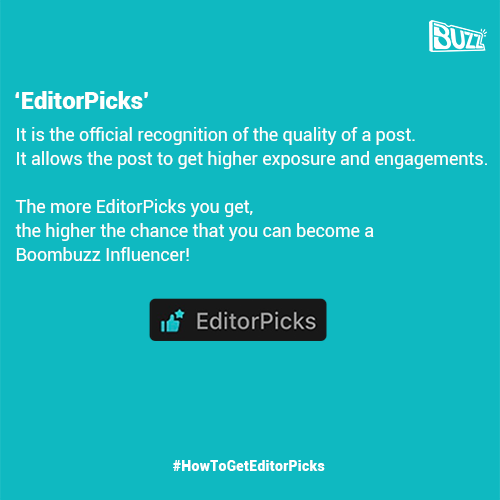 How To Get The EditorPicks Tag?


Step 1: Create good contents related to music and life.
Boombuzz is the community for Boombuddies to talk about music and their general life. Posts about music or music knowledge will have top priority.

In addition to sharing music, you can also post about things happening in your life or around the world - such as sharing content about artistes, celebrities, films, current news, your relationship stories, etc.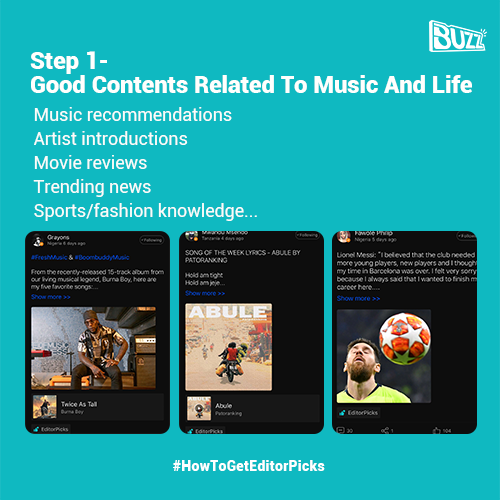 Step 2: Have a focused idea
Summarize the content using with one line at the front of the post.

The more interesting and comprehensive the topic sentence is, the higher the chance that readers will keep on reading.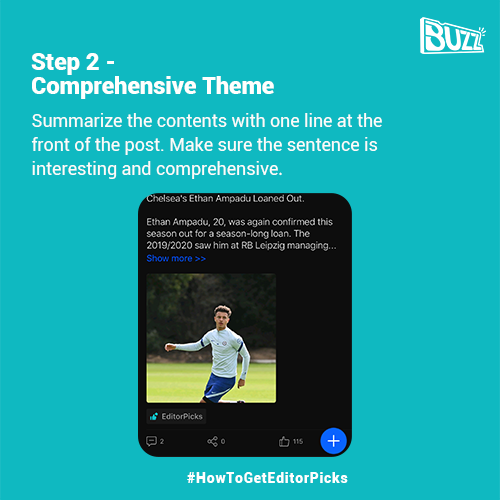 Step 3: Pictures, music, and videos
Add pictures, music and videos that are related to your posts.
This will not only make your posts more attractive, but also help readers understand more about the contents.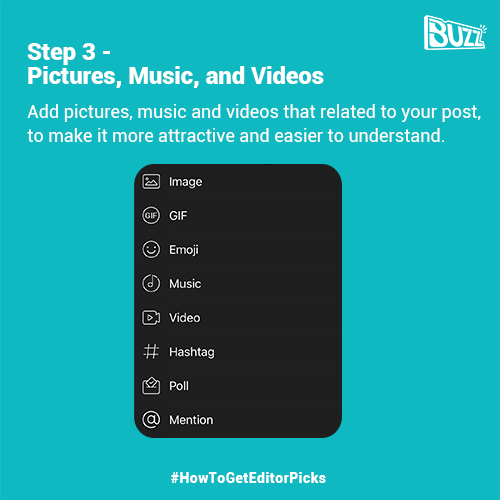 Step 4: Hashtags
The hashtags can help you find posts under one topic.
So posts with hashtags, especially hot hashtags, are easier to find and will receive higher exposure.

However, a hashtag that doesn't match your content could only ruin the pleasure of reading, for others.
Therefore, remember not to abuse hashtags in order to get more views.



Now that you know how to get 'EditorPicks' and become a Boombuzz Influencer!

Click the '+' button at the bottom right corner of the Buzz homepage, and let's start posting!


Check here to see more articles:
How To Use Boombuzz And Have Fun >>>[url=]Boombuzz Global's Post[/url]
Influencer On Boombuzz-Recruitment! >>>[url=]Boombuzz Global's Post[/url]

[url=]#HowToUseBoombuzz[/url] [url=]#InfluencerOnBoombuzz[/url]