Hi T-Fans,




Dear artists and content providers, do you wish to get more chances to be featured on Boomplay editorial playlists? Get verified now to gain more opportunities to interact with new audiences and grow your fanbase!


From Friday 11th September to 2nd October, we are running a 4 week campaign to help more artistes just like you! This is the last round, be quick!!


Why get verified?
1. View how your music is performing on our For Artists Backend.
2. View your Ranking.
3. Upload your own custom artist image.
4. Interact with your fans.
5. Be considered for the Suggested Users category in-app for Followers growth.
6. Have your curated playlists considered for optimization in the Curator category in-app.


How to get verified?
For artists
1. Make sure you have the latest version of the app.
2. Navigate to the main menu and click on "I'm an Artist"






3. Click on "Claim Now".






4. Fill and submit the form.


For content providers
Please provide the artist's name & artist's Boom ID (to get a Boom ID, artists need to register on the Boomplay App and then find the ID in their User profile page) and email to playlist.boomplay@transsnet.com.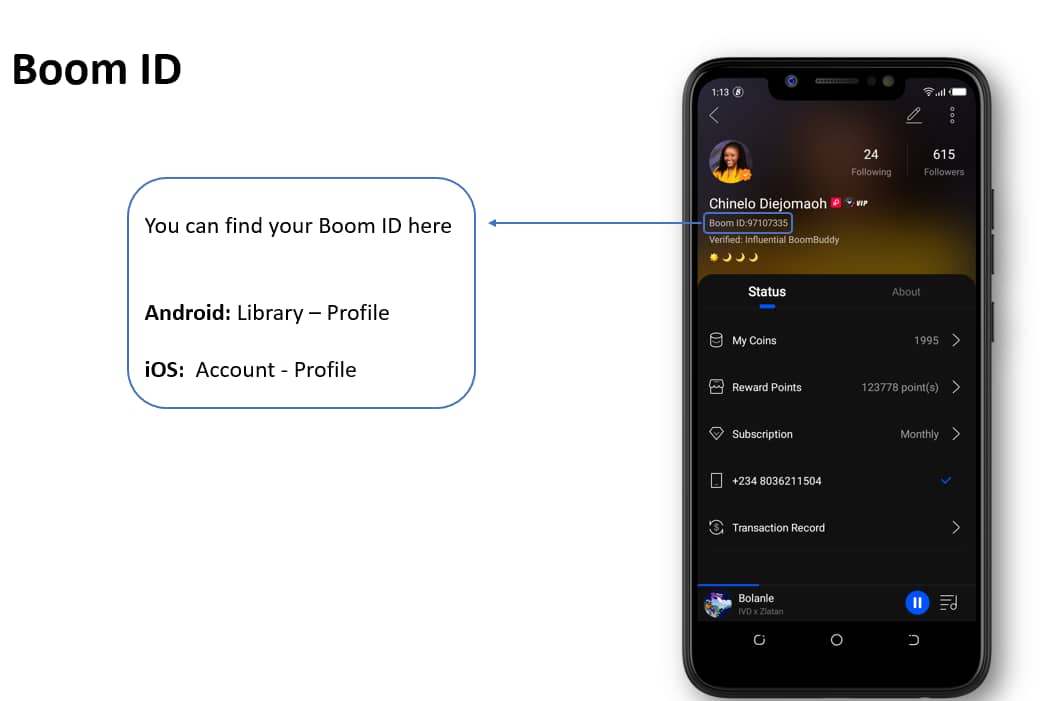 How to get featured on playlists?
For artists
Once verified, complete your user/artists information such as nationality, biography and profile picture.


Visit this Link to pitch your songs.
Go to your profile page and get a screen shot and email to playlist.boomplay@transsnet.com.






(Android)






For content providers:
Please send us the details of the music you are pitching together with the artist's name & artist's Boom ID and email to playlist.boomplay@transsnet.com.


Details should include:
Artist name, nationality, social media handles, Boomplay link of music, genre, a brief introduction of music, language


Where to find my featured playlists?
Our editorial team will consider and evaluate all music pitched correctly based on their professional music knowledge and criteria.


For the music which meets the pre-requisite standards, they will get featured in our themed playlist:


Artists and content providers can search your music in the mentioned playlist.


What next?
Congrats…If your music gets considered and featured!


Remember to share the playlist featuring your music across social media and don't forget to tag Boomplay!


You can also go to our Buzz Section In-App where you can post updates, pictures, interact with fans, share your music and featured playlists for more exposure.


We will keep supporting our artists and partners with more initiatives and campaigns.


For more questions or suggestions, please leave your comments or send an email to playlist.boomplay@transsnet.com.