Hello T-fans!The Wait is Over!

on the 10th July, 2019 ,in India,we have launched the long-awaited addition to the TECNO PHANTOM smartphone series——PHANTOM 9. As we all know, the TECNO PHANTOM series is one of TECNO's most popular smartphone series because of its record of upsetting and setting smartphone technological trend. This time,The new device comes with an array of enhanced features that takes smartphone experience to a whole new level!



1. An Aurora inspired beautiful smartphone
Imagine a device with a beautiful design inspired by the awesome aurora! The device is a stunning smartphone to behold which is graced by showers of brilliant color.



2. The phone is displayed into 6.4" FHD+ AMOLED and is a Nano SIM+ Nano SIM+T card powered by 3500mAh battery. Different from every other smartphone out there, the TECNO PHANTOM 9 is the first to make possible the Drop screen Dual Front Flashlight on a smartphone. A breakthrough helping users take shots at night or low light conditions without worry. The innovative PHANTOM drop screen dual front flashlight demonstrates PHANTOM's unmoving dedication to user the evolution of Hair Crack Dual Flashlight.


3. Wide Angle Shots
There are a lot of situations in which the AI triple camera with 120 degree wide angle lens can be very useful. For example, capturing an amazing landscape or cityscape. No need for a bulky camera that serves a single purpose of taking pictures, because PHANTOM 9 makes wide angle photograpy possible. With TECNO PHANTOM 9, you can take immersive wide angle photos of landscapes, cityscapes and indoor architecture, even in tight corners, without breaking a sweat.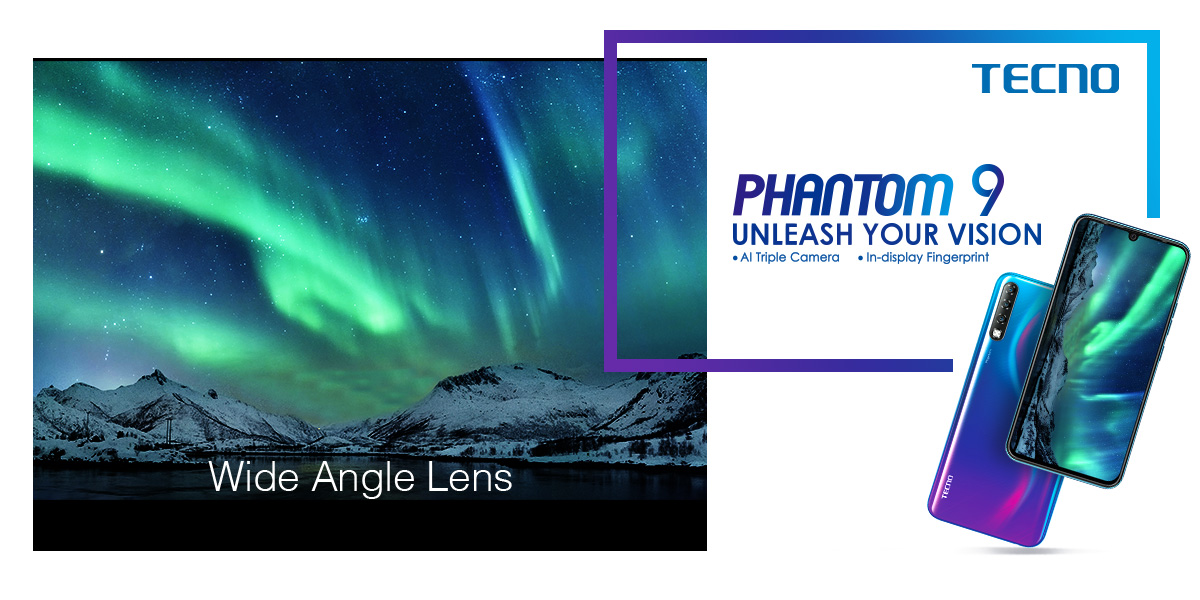 4.AI Triple Camera/Extreme Close-Up Shot
The triple camera supports 16M+2M+8M (120°) and 2.5cm extreme close-up shot, so details can be seen clearly, for example, if you do a close-up shot to jerwelry, each piece of jewelry makes a glamorous impact as the exquisiteness of each detail shines through.




5. AI Video Beauty
AI Video beauty keeps you beautiful all the time when video chatting. Supports WhatsApp video calls and local video calls.



6.AR Sticker
This function is built into the camera,it is so funning!




7. Animoji
This function is built into the camera,it looks so cute!
Do you want to have a try?



8.A new screen unlocking experience at your fingertips
A photosensitive in-display fingerprint reader ,that means users can lock and unlock their smartphone more seamlessly than the usual way.


9.KEY SPECIFICATIONS:
Display: 6.4 Full HD Amoled
Resolution: 2340*1080
Dimension: 158.46*75.3*7.85mm
Camera: 32MP Front Camera with Dual Flash , 16MP+2MP+8MP Triple Rear Camera with Quad Flash
Memory: 128GB ROM + 6GB RAM (Can be expanded with SD card).
Processor: 2.35 Ghz Octa-core
Battery : 3500mah
OS: HIOS 5.0 based Android Pie 9
Color: Lapland Aurora
Sensor: G-Sensor , Ambient Light Sensor, Proximity Sensor , Fingerprint Sensor , Electronic compass
Network and Connectivity: 4G , Wifi , Bluetooth, 3G and 2G
SIM: Nano SIM+ Nano SIM+T card
Android:Android P



Other features on the new PHANTOM include Bluetooth 5.0 which makes connecting one device to another easier and transferring files faster; 4G LTE capacity for smooth high speed browsing.




An Aurora inspired French style designed smartphone, an extraordinary triple AI camera and host of other top-of-the-line specification on just one smartphone? Personally, I cannot wait to see the device for myself.

Want to learn more about PHANTOM 9?
Hers is our product video,Enjoy!