Hi, T-Fans!
Welcome to the NEW TECNO SPOT. let's start how to use the new TECNO SPOT.

1.Log in / register

If you have an account click login if you don't have an account click register






> Log in
The new TECNO SPOT supports a variety of login methods, which can be selected according to your account:

a. Login by mobile phone account (login by password and (login by SMS*only web side))
b. Login with email account and user name
c. The third-party platform authorizes login

web:





APP:




> register
At present, we only support the verification and registration of mobile phone number, choose the country where the mobile phone number belongs, fill in the verification code received, and then fill in the password, so that the registration is successful.

web:






APP:






> reset password

If you forget your password, you can click forget password to change the password. There are two ways to change the password:
a. Mobile phone number verification
b. Email verification

web:






APP:






2.Release New Thread

Web:
Click the Release New Post button






1.Select the type of post you want to post
2.Select sections and plate classification






3. Enter the title of the post
4. Edit the content of the post, you can set the text style, add pictures and add YouTube videos






upload pictures:
5. Click on the picture icon, and a popover of upload photos will appear.
6. Click select file to select the image to upload, then click upload.
7. Click on the picture in the popover to display it in the post.






Insert Youtube video:
8. Click video icon
9. Enter the video link and click "submit" to embed the video successfully.


Insert the attachment
10. Click the attachment icon
11. Click "select file" to select the file, and then click "upload" to upload the file12. Click the attachment and it will appear in the edit box



13. Check more options for the topic you want.
14. If you do not want to publish, click save draft. If there is no problem with the published content, select submit.





APP:

1. Click the "Release" button
2. Select post Thread or Vote
3. Select the section where the post belongs
4. Select section classification and click submit
5. Enter the title, post content, and insert pictures and YouTube video links. Make sure there is nothing wrong with the content and then click the publish button in the upper right corner






3.Personal center

web:
Click Message, Posts, Following and followers to check the information
Click the Settings button in the upper right corner to set your personal information






Click the calendar button to view the check-in information





APP:

Click mine in the menu to enter the personal center page

1.Click the modify button to modify your personal information




2.Click the message button to view system messages, post messages and personal messages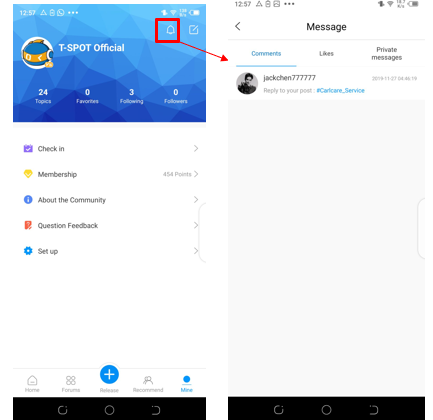 3.Click check in to enter the check-in information page




4.Click membership for points and level information
Click "question feedback" to give us a feedback




If you have any questions, please send a message to TECNO SPOT and we will reply to your questions immediately!!!