[Unboxing] CAMON 15 UNBOXING AND REVIEW

Excellent
CAMON 12 Series | 2020-4-4 05:02
TECNO CA6 438886
☑️FOLLOW FOR MORE
???? FOLLOW FOR MORE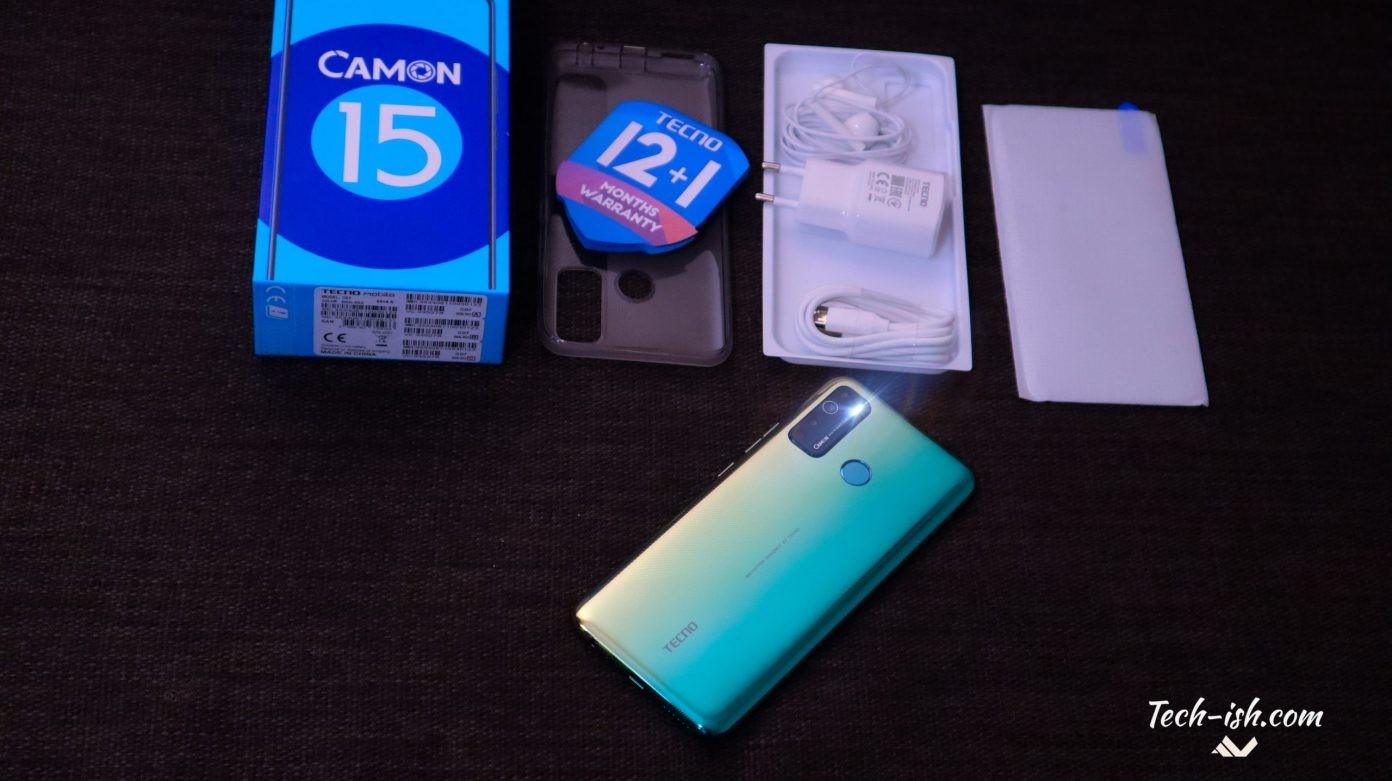 But basically what you get in the box includes:

The Phone

Charger

Micro-USB cable

Earphones

SIM ejector

Plastic Case

Paperwork





I didn't know which colour my review unit was, so unboxing it on video, I was amazed by the Shoal Gold model here as TECNO has decided to name it. I have no idea what shoal gold means. But I feel it is the only adequate description that could fit the phone's look. It is both gold and sort of blue at the same time. It's a gradient that shines differently under different light conditions. Plus, there's also a series of curved lines running on the device that appear more prominently under bright light.

These pictures here should explain what I am trying to say:




At the back there's just what you see above:

TECNO's logo

A new inscription written "Innovation Designed by TECNO"

The Fingerprint scanner, and

The rear Quad-camera setup which protrudes

The Quad camera setup is weird because TECNO hasn't been clear on what the 3 extra lenses do. Yes, there's the 48MP main lens, but I cannot state what the other 3 lenses do. Of course I know one lens is a dedicated low light lens for helping with night shots, but I cannot tell which one. Checking in software, there's nothing to show which lens is which, or what each lens does. This isn't a good thing, because as a buyer I'd want a clear explanation on what each lens' purpose is. I hope the company comes out clear on what the extra lenses do before the phones hit the stores.




I've seen some retailers have listed the rear camera setup as 48MP main + 5MP + 2MP + 2MP. However, GSMArena have listed the lenses as 48MP+2MP+2MP+QVGA. This leaves everything to speculation. Which isn't right. Still, expect a full camera review. Hopefully by then I will know the exact specs of each of the lenses, and what role each lens plays.

On the front, the 6.6 inch HD+ display looks as colorful, and as bright as with almost all the recent TECNO phones. That's to say, it's a decent display. I am still not happy it isn't FULL HD. But it serves its purpose well. There's a circular cut out at the top left that houses the 16MP selfie camera. The front dual flash is housed on the phone's top bezel, together with the ambient light sensor, and other important sensors.

The bezels, like all phones we've seen recently from TECNO and Infinix are of reasonable size. They're not stuff I can complain about at this price range. Of course when you compare it to flagships they're quite thick, but this is a very budget phone, and as such, this design is more than good. Anyway they look to me just as thick as, if not thicker, than iPhone 11's bezels. Fight me.




The bottom chin could be a little smaller, but given the tech needed to really be able to bend the LCD panel to reduce that chin, this is also acceptable at this price range. It doesn't take away a lot from the aesthetics of the device, and many people getting the phone won't have any issues with that chin. I am happy there's no TECNO logo on that bottom chin. I've seen some Nokia phones do that and I hate them.

The Camon 15 comes with 4GB RAM, a Helio P22 Processor, and 64GB of internal storage. You can expand the storage with a dedicated microSD card slot. For the estimated price point of between 14k and 16k, this is obviously a really good deal. In 2020, on Android moreso, at least 3GB is what should be enough for tasks like social media, a little gaming, and a little productivity work like photo and simple video editing.

I believe the 4GB is enough for keeping a good number of apps in memory, and for making the phone feel considerably snappier. The only let down is the dated processor. I wonder why TECNO insists on these old chips. I will share more thoughts on the processor and the RAM in my full review. I hope I won't be disappointed.

So I've said I like most of the things I've already mentioned above. However, there's something that really annoyed me when unboxing this phone.
The included charger is a meagre 10W charger for some reason. Remember this phone packs a huge 5000mAh battery. Charging it with a 10W charger will take a lifetime! At least 18W charging would do TECNO. And if you're hoping for type-C here…. forget it. It's a micro USB cable.

I really wish TECNO added USB Type-C to this phone. I would – with no hesitation – easily recommend it to anyone. Because that one port would be a good step in future-proofing the device.

Anyway, there's lots of people, I've come to realise, who don't mind the MicroUSB port, and will definitely not see this as an issue. And for those people, this is a great device they will definitely be picking up.

I also believe the specs of this phone – provided TECNO hits the price right – will make many people compromise of the USB Type-C port and pick it up because they want 4GB RAM/64GB storage at a low price.


☑️FOLLOW FOR MORE ????

This information was copied from www.tech-ish.com

https://youtu.be/OTpRDz9X254