Hey T-fans, we are recruiting 25 camon camera experience officers (CEO) who will own and try the next camon. This is first of its kind in our country Kenya and we invite everyone to participate.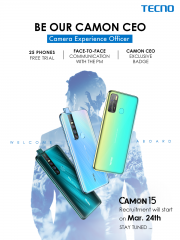 All you have to do is;
· Tell us the mobile phone you are using and upload the most beautiful and memorable photo in your album,then tell us the story behind it,you may get the chance to be our CAMON CEO.
· Share your entry with your friends & family on social media pages (Facebook, twitter and Instagram) to like and leave comments.using hashtag #CAMONCEO
· Invite 10 friends to register as TECNO SPOT USERS and let them type "congrats" under your entry to be sure you invited them to join.
Prizes to be won
25 Entries with the most captivating picture with an interesting caption and proper use of the hashtags stand a chance to win the next TECNO Camon device
ACTIVITY TIME
Camon CEO recruit time:24th march-15th April
Call on Camon CEO to sign the agreement:20TH April
GENERAL AGREEMENT


1. This activity is open for all Kenyans and shortlisted winners must be resident in Kenya
2. All participants must be least 18 years old, and if there is any personal reason that disqualifies you, TECNO won't have any responsibility
3. The copyright of the photo must belong to the participant.
4. TECNO reserves the right to change the content on the TECNO SPOT and other details. All content is protected by TECNO copyrights
5. TECNO reserves the right to change or delete this activity without prior notice.
6. TECNO will announce the final winners of this campaign in our Social Media pages and TECNO SPOT when the activity rounds up.
7. In case of any concerns or objections, TECNO reserves the right to make final decisions about the content or to change the award at any time.
8. TECNO reserves the right to use the content for other marketing activities and advertising.
9. If the personal information is not complete or identity cannot be verified, TECNO reserves the right to cancel the award without prior notice.
10. TECNO Mobile Kenya will not divulge the database of entries received to any 3rd party except in litigation