Hello T-Fans,



Ever wondered how you can be able to build that desired muscle structure you always admired in your super stars like Anthony Joshua, Tyson Furry, Roman Reigns, even Cristiano Ronaldo??? Worry no more!!!!!!

Good news is here!! I present to you yesterday and proven techniques and work outs that will make you build muscles faster and stronger.



Building your desired muscular body shape are divided into 3 categories: Athletics, Heroes(Super stars) & Body builders.

Our main focus on this slide will be on Athletics and Heroes Category. Building your desired muscular body shape doesn't just happen overnight. It takes serious determination, resilience, undeterred will to continue even when all odds are suggesting that you should give up.

Let me State here that the number 1 reason most people give up on this dream is because they don't have the inner strength to keep going on or keep pushing.

HOW MUSCLES DEVELOP.

- Muscle sizes increases when we continually forces the muscles to deal with higher levels of resistance or weight. This process is called Hypertroph. When the muscles are subjected to very heavy weights, their fibres are damaged and the Body repairs them by fusing them together which increases the mass and the size of the muscles.

- Certain hormones like testosterone, human growth hormone, and insulin, growth factor, also play a role in muscle growth and repair. These hormones work by:

* Inhibiting metabolism of protein.
* Improving how the body processes proteins.
* Activating satellite cells, which play a major role in muscle development.
* Enhancing tissue growth.

Building Muscle through Exercise.



The best type of exercise to engage in when attempting to build muscles is "strength training". But this type of training must come with consistency and might take weeks or months to build to satisfaction.

Examples of these strength training exercises are:

- lifting weights
- using stationary weight machines
- push ups
- squats
- pull ups
- pushing heavy weights like tires of big trucks
- hitting heavy tires with huge hammers to build biceps and triceps
- using a punching bag.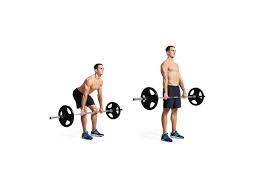 To add to this exercises, eating a balanced diet high in protein and fats will improve muscle tone and development. Foods like meat, fish, eggs, milk, soybeans, beans, nuts, seeds.

General advice for Beginners

Hey, I know that you might be all geared up to hit the gym or tracks right away to start your journey to building your muscles. You'll do well to take this advice:

- Always warm up and stretch your legs, arms and joints before each round of exercise(especially strength training)
- Begin with light weights and increase the weight gradually according to your pace(for push ups, pull ups, squatting with weights, weight lifting)
- Carry out all exercises using the correct form, breathing techniques and controlled movement. Always look for guides/instructors.
- Expect some fatigue afterwards (for beginners) but if it's persistent, reduce the intensity of the workouts.

Finally, getting enough sleep helps the body to recover and heal itself before the next work out session. Also drink a lot of water at least 5 litres every 15 hours to aid metabolism and fluid movement.

Note: We will like to get your feedbacks and comments soon on the progress made from these tips.