Closing in on the end of the year 2021, some highly esteemed bodies unanimously agreed to recognize and award excellent contribution and innovativion in the technology industry.
Nigeria Technology Awards (NiTA) has in the past 6 years consecutively awarded outstanding individuals and industries developing, designing, and improving the use of technology among the millions of people in the country.
This years' edition makes it the 7th annual award session hosted by the Nigerian Technology Awards (NiTA) on the 11th of December 2021.


Just like in planting for harvest time, TECNO HiOS from the begining of this year has in digital perspective, driven the fore-front of innovation; understanding and designing powerful operating system plus features for a safe, smooth, yet simple experience on TECNO smartphones.
For the wonderful works done, making the experience of TECNO smart phones a top notch for the users, and improving the way people live and work using their smartphones, NiTA identified, noted and accordingly, awarded TECNO HiOS.
To break the gap for TECNO HiOS excellency, NiTA found her worthy of two (2) prestigious prizes in the tech industry.
This awards namely:
1. Most Innovative Operating system of the year
2. User-Friendly Mobile Operating System of the year.


Presenting the award is the chairman of NiTA who recognizes the remarkable contribution HiOS is offering to the experience of smart phones. Adding that TECNO Operating System, HiOS, is the front leader of the digital innovation on smart devices.
On receiving the awards for TECNO HiOS, Olumide Aduloju, Marketing Manager, TECNO HiOS said "This is a great win for the TECNO HiOS brand and a validation that the work we put in to deliver the best technology to smartphone users in the global emerging markets does not go unnoticed. We keep pushing the boundaries of innovation and setting records for ourselves and the industry as a whole, with the goal to remain a user-centric brand and giving our users the best mobile experience there is".


Justice Olley, Senior Manager Product Marketing, also commented on the award "We appreciate the NiTA awards organizers for these recognitions giving to us. To emerge victorious in two heavily contested categories by brands who consistently make waves in technological advancements is a truly humbling experience. This further cements TECNO HiOS' status as the software of choice for users in the global emerging markets, and indeed spurs us to intensify efforts to ensure increased development of technologically advanced software."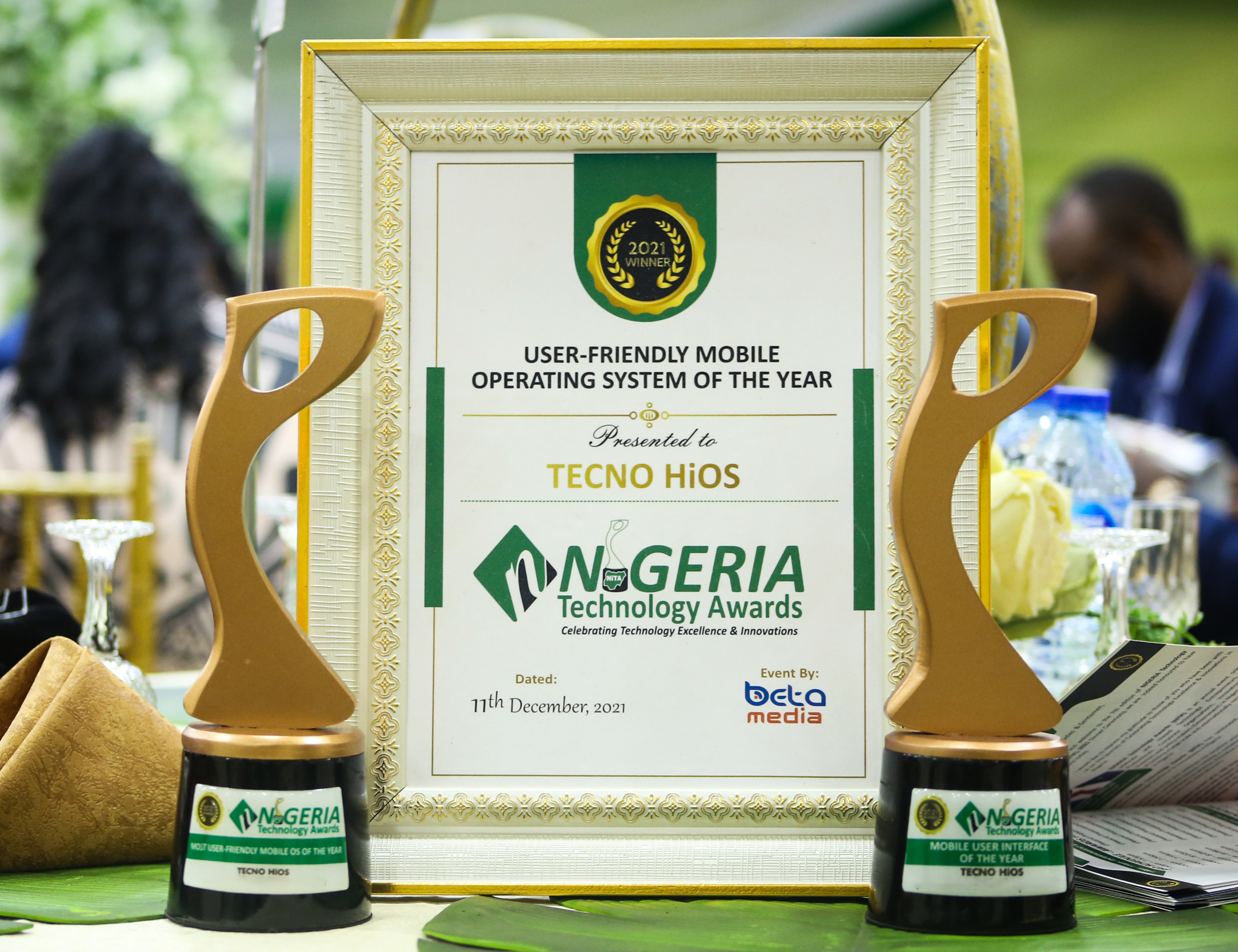 In the past few years, TECNO HiOS has consistently delivered premium user experience that is underpinned by an intuitive interface complete with exciting AI abilities that makes the TECNO phones smarter and streamlined than ever. With its powerful AI Engine, Einstein, HiOS continue to deliver excellence through innovative products that are tailor made to suit the needs of users, and ultimately contributing to the advancement of technology and its positive impact in the global emerging markets.
HiOS is worthy of an applaud in the comment section below.