The common wealth games is a quadrennial int'l multi-sport event among athletes from the Commonwealth of Nations(Nations colonized or influenced by British).

It was first staged in 1930 and has been held every 4 years since then with the exception of 1942 and 1946 because of the World war 2. The games evolved and for the first time in 1974 added paraplegic games for athletes with a disability. This addition became fully operational in 1990.


Nigerian Athletes competed at the last edition held in Gold Coast, Australia in 2018. Elite sprinter Blessing Okagbare was Nigeria's flagbearer in the competition. The Nigerian contingents won a total of 25 medals consisting of 9 Gold, 10 Silver and 6 Bronze medals.


This year's edition in Birmingham, England saw Nigeria's Contingents surpass the feat of 2018 edition. A lot of world records and Games records were broken and set by the athletes. In athletes, weightlifting, powerlifting, Boxing, Paraplegics, they all made Nigerians proud and gave us something to cheer about.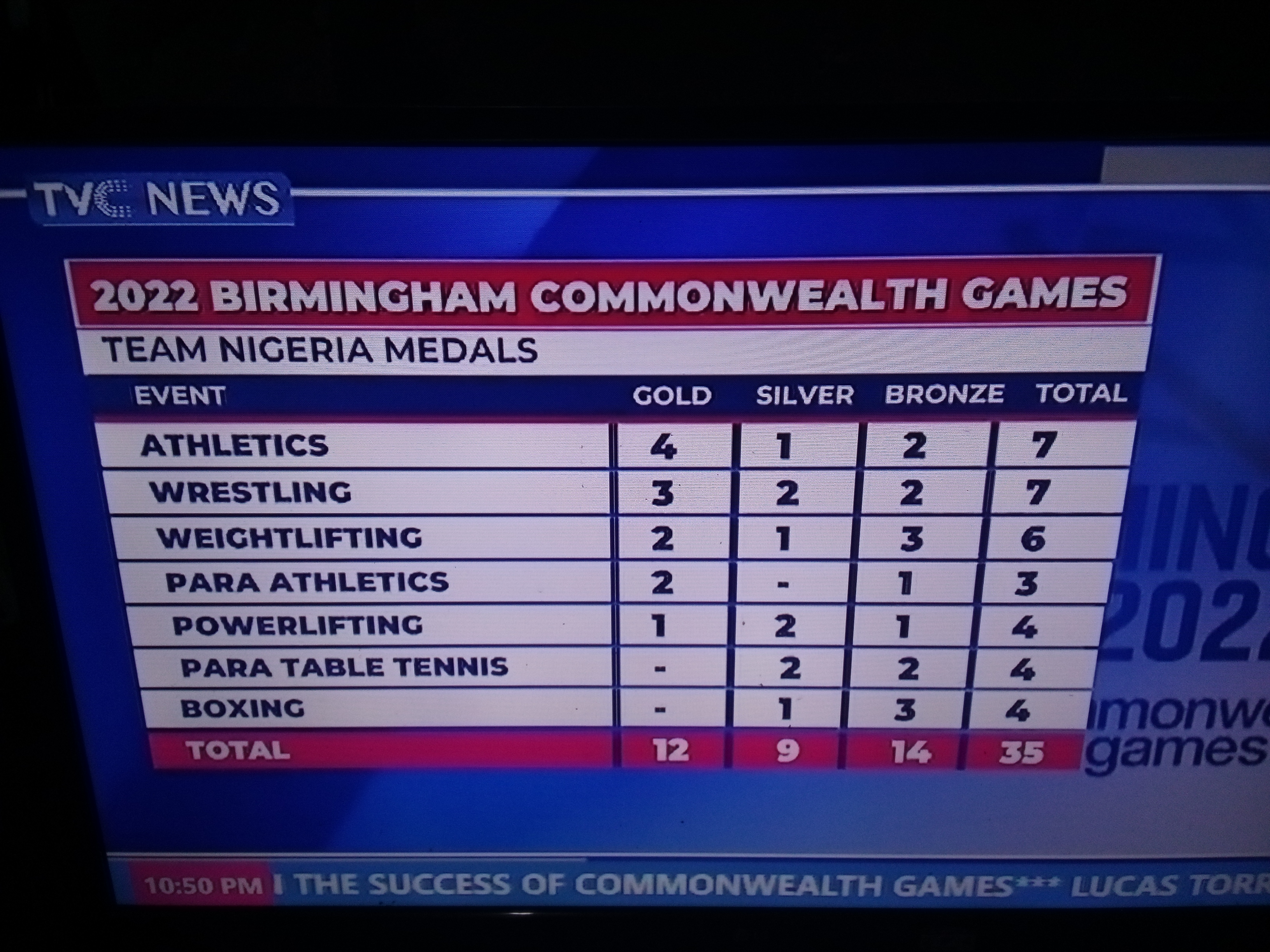 The weightlifters gave Nigeria a total of 6 medals comprising of 2 Gold, 1 Silver and 3 bronze. Discuss throwers won 2 medals for Nigeria(1 Gold and 1 bronze).

Our para athletes didn't disappoint either as Nigeria garnered 8 medals in various sports comprising of para dicuss (1 Gold), Para shot put (1Gold and 1 bronze), Para Table Tennis(3 silver, 2 bronze).

Nigeria's wrestlers also won medals for the country in their respective weight categories. A total of 7 medals consisting of 3 Gold, 2 Silver, and 2 bronze medals were won for Nigeria.

In track and field events, World records holder in the 100m women's hurdles at the just concluded World Championship held at Oregon, USA, Tobi Amusan , continued her exploits and dominance. She won Gold at the Commonwealth games with a time of 12.30secs which became the Commonwealth games record.


Amusan also inspired the women's 4x100m relay team to win Gold by starting for Nigeria in the heats and securing the important gap before handing over the baton to her compatriot. Nigeria also got another medal in race as Favour Ofili won Silver in the 200m women's race.


Ese Brume also won Gold n the Women's Long jump event by jumping a Games record of 7.0m. The men's 4x100m relay team also won a Bronze medal in their own event.


The table below shows the medal tally of Team NIGERIA at the end of the games.

GOLD(12)
SILVER(9)
BRONZE(14)

BELOW IS THE BREAKDOWN OF THE MEDALS WON:



A total of 35 medals were won by Nigerian Athletes in this year's Commonwealth games, and it thus became Nigeria's highest Medal haul in the games ever. The feat also made Nigeria to finish as the BEST AFRICAN COUNTRY and 7th best Overall with 12 Gold, 9 Silver and 14 Bronze.