Hello T-Fans,

Have you ever needed to switch up the vibe at your house party or outdoor event?

Being the guy or lady to bring life to an event can be a little demanding, and sometimes being clueless is very normal. It is a no-brainer that music is the life of every party, and if you need your music to bang at an A+ level, then your best bet is the oraimo Boom. With this device, you don't even need a DJ. Just head over to your favorite streaming apps like Boomplay or Spotify, get a pretty good mix, hook up an aux cord or switch on the Bluetooth on your phone, and Viola! The mood is set for energy dripping, heads shaking, and overflowing sweat on the dance floor at your party.



Oraimo Boom is a powerful, portable, and wireless speaker that can provide the ultimate party experience. It can be used in any space-whether it's an outdoor or indoor party. The speaker's powerful sound and bass tuning technology will make the party feel like a rock concert. It has multiple connected modes and is IPX5 water resistant, so you don't have to worry about bringing it outside in the rain. The dynamic party light will set the mood right, giving an energy burst from all dance moves.



The delectable music box comes with a V5.1 Bluetooth version (10m range), 85Hz-16KHz frequency, 3600mAh battery capacity, and a playtime of 6 hours (lights on) or 7 hours (lights off).



When you have the oraimo Boom, get ready for fun moments. The retractable handle allows easy movement from the park to the beach, and the IPX5 splash resistance keeps the water at bay.



Just like anything in life, some house parties rock and others suck. If you are planning on having a house party and you do not want it to flop, grab the oraimo Boom wireless speaker from http://ng.oraimo.com/ and turn up the music to full volume, and enjoy an amazing time with friends.

Experience rich sounds, feel the beat dropping and your heart throbbing with the 30W speaker.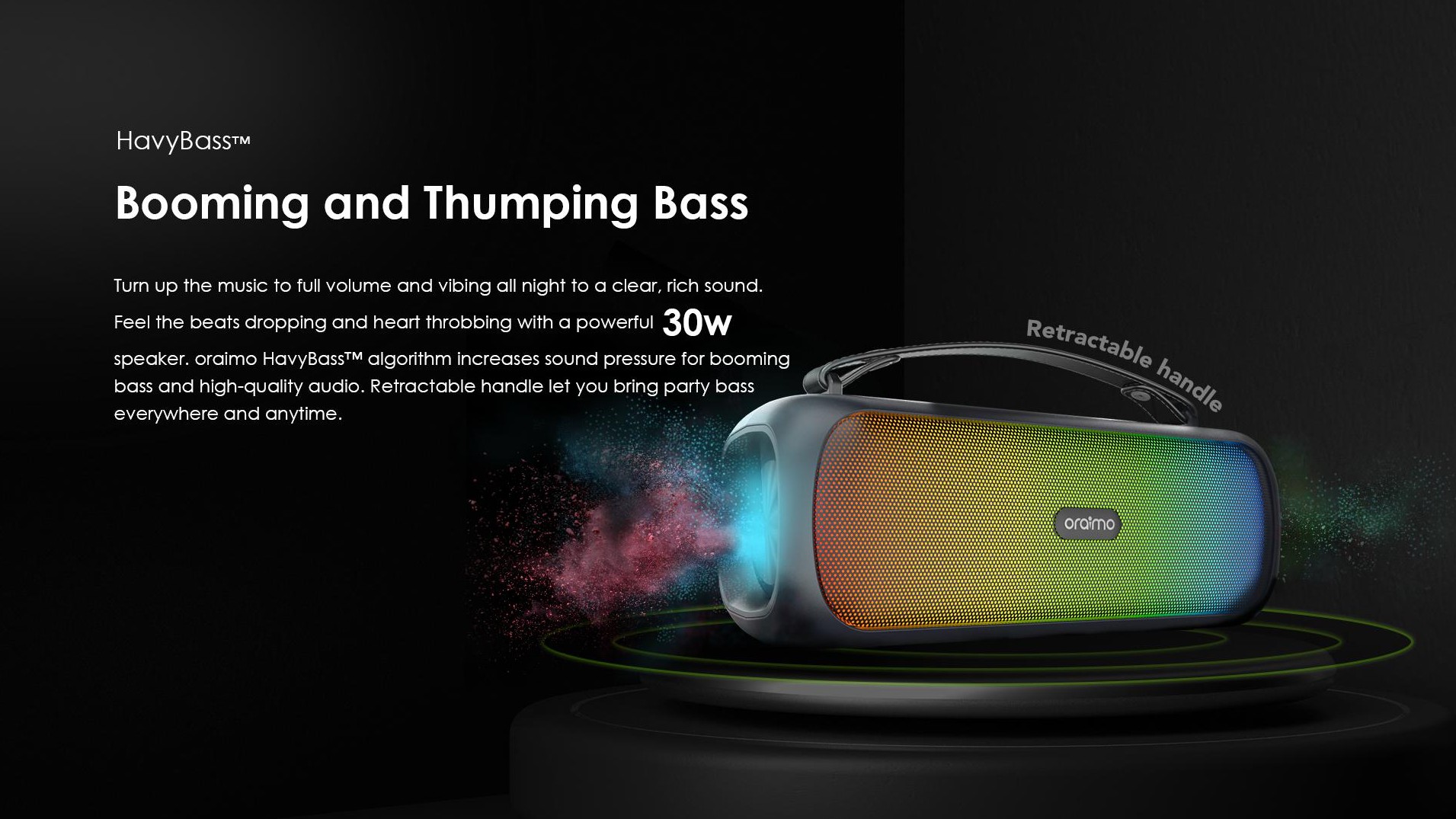 The magic music box keeps the vibes intense without restricting your friends in clumsy spaces, as the TWS pairing gives a wider stereo sound; so you can have your groove by the grills, suya spot, and snooker table or pool side.



The Havy bass algorithms increase sound pressure for booming bass and high quality audio. The oraimo Boom allows for easy pairing, enriched with FM, AUX, USB, built-in Mic, and 4 mode RGB LED effects, which enables multiple connections & simultaneous sound blasts. So what are you waiting for? Cop the oraimo Boom and indulge in music like never before, with no limits and no boundaries.